Auburn Adventure
On Friday, I decided to head out on one final long 300+ mile adventure before the start of the Race Across America in just over two weeks. Having visited the University of Alabama a few times during my training I thought it was only fair that I also make the journey down to Auburn University. Plus, I would be able to add four new counties to my 2015 training tally – Chambers, Lee, Russell, and Macon counties. Check out my updated maps. The first shows elevation data only from the 50 Alabama counties I've ridden in this year. The second is a map of the 27 rides longer than 186 miles (~300km) I have completed this year showing the elevation data for the entire state.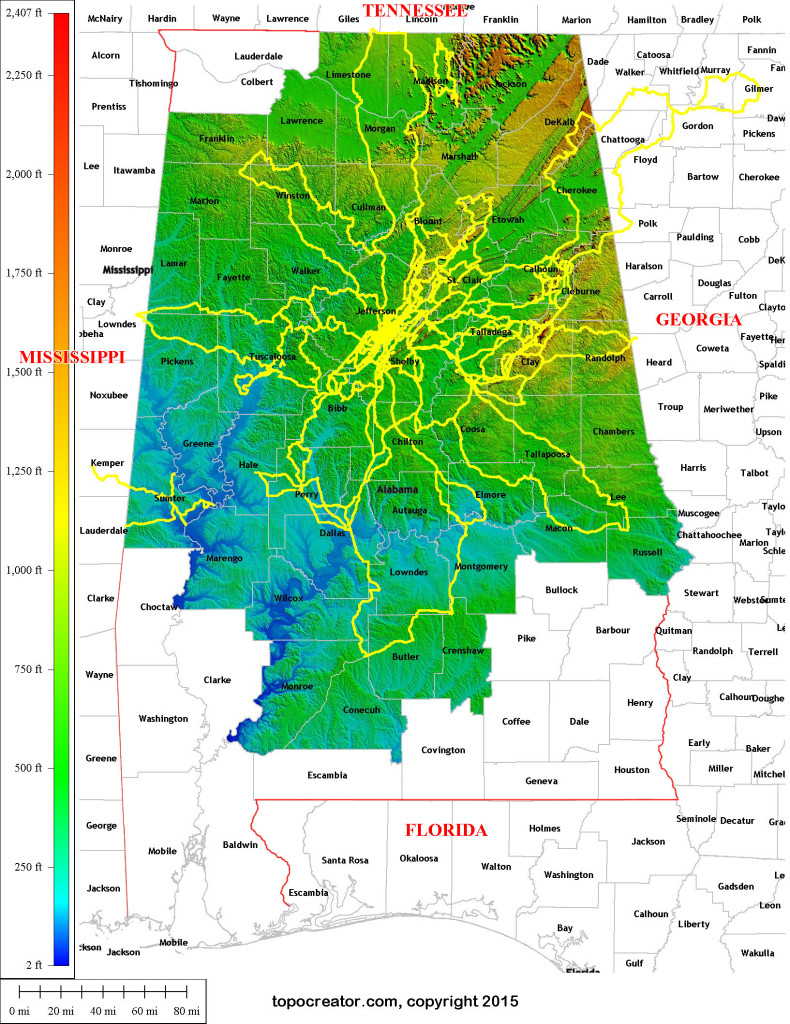 Alabama map showing elevation for the counties I have entered during my 2015 training for the Race Across America. I have a one-way ride planned to pick up the rental van RAAM follow vehicle in Florence, Alabama arranged by my good buddy Justin Lowe at 1st Choice Collision in Dover, TN that will include entering Lauderdale and Colbert counties. (Click to enlarge the map)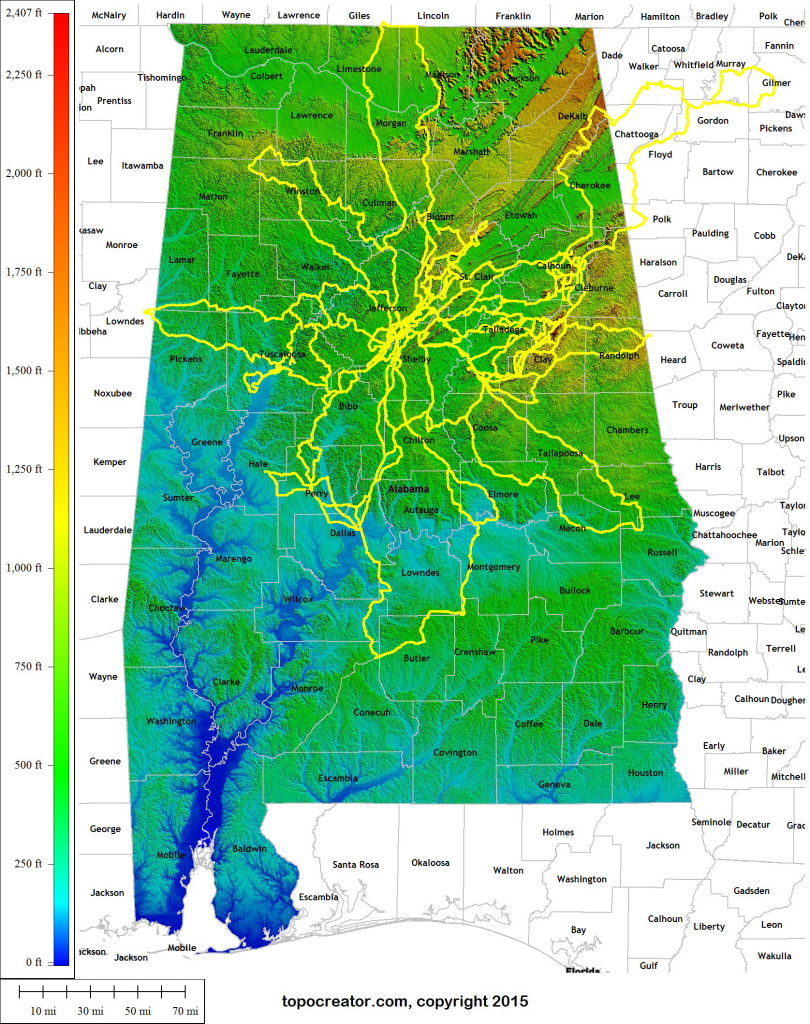 27 rides of 300km (186 miles) or longer from 2015. Note that the primary difference is the lack of a solid mass in the Birmingham area where all my shorter rides stay. Click to enlarge.
Exploring Alabama has been one of the biggest surprises of my training for the Race Across America. I knew that I would be increasing my mileage this year as training, but what I didn't realize fully ahead of time was the freedom that a 200+ mile ride gives you to explore all parts of the state all the way out to the borders. There is something really special and hard to describe about leaving the house at 1 in the morning, riding hundreds of miles during the night, all day, and into the night again, and yet returning through the same door and parking the bike in the same spot from 20 hours earlier. There is a laughable moment of "holy crap, I just rode my bike to Tennessee and back" that cannot be described – only experienced.
For this Auburn adventure, I started out at 2:30 in the morning after staying up later than anticipated the night before and still wanting to stick to a 3 hour sleep schedule. My route included 90 miles straight down Highway 280, which I had wanted to have finished before morning rush hour traffic started to pick up down through Alexander City, Dadeville, and Auburn. Leaving an hour and a half late meant that I hit those areas during the 7-8 rush hour. And it was nowhere near as bad as I had anticipated. Partly because the lights in Dadeville queued up traffic into little bursts of maybe 10 cars at a time separated by 2-3 minute intervals. So what that meant is there was about 10 miles where every 2-3 minutes I had to hop over the rumble strip off the road into the shoulder for 10-15 seconds and then hop back on after the herd of cars and trucks passed. Great visibility meant I could also look back and see if there were any stray cars/trucks in between the packs.
Also, there were stretches of the 280 shoulder that were very smooth and clear of debris during which I could just ride over there for miles at a time. There were also stretches with no shoulder at all. And there were a few stretches where the shoulder was some sort of really rough unfinished (in my opinion) chip/seal. Those sections unfortunately were also some of the busier sections past Dadeville so I had to ride those very slowly.
When I left Hwy 280, it was to make a very short detour through the southwestern corner of Chambers county. As it turns out, I had picked out a logging road which eventually intersected with Chamber County Road 001, which ended up also being dirt/gravel. So I ended up traversing the entire county in the mud from all the rain we had the past few days before this ride.

Arriving in Auburn, I ended up at Price's BBQ which had a great breakfast and was quite busy. I ran into two Auburn Flyers – Todd Sellers and Hunter Denton – and one other rider (I'm so sorry I forgot your name!). So we headed out on some of the routes they knew in the general direction of Russell County – the easternmost county in Alabama I will visit before RAAM. On the way back we followed a good portion of the Bo Bikes Bama route until we split up in Tuskegee where they headed back to Auburn and I continued on towards the lake area of east central Alabama and eventually home. It was great having company for the middle part of the ride.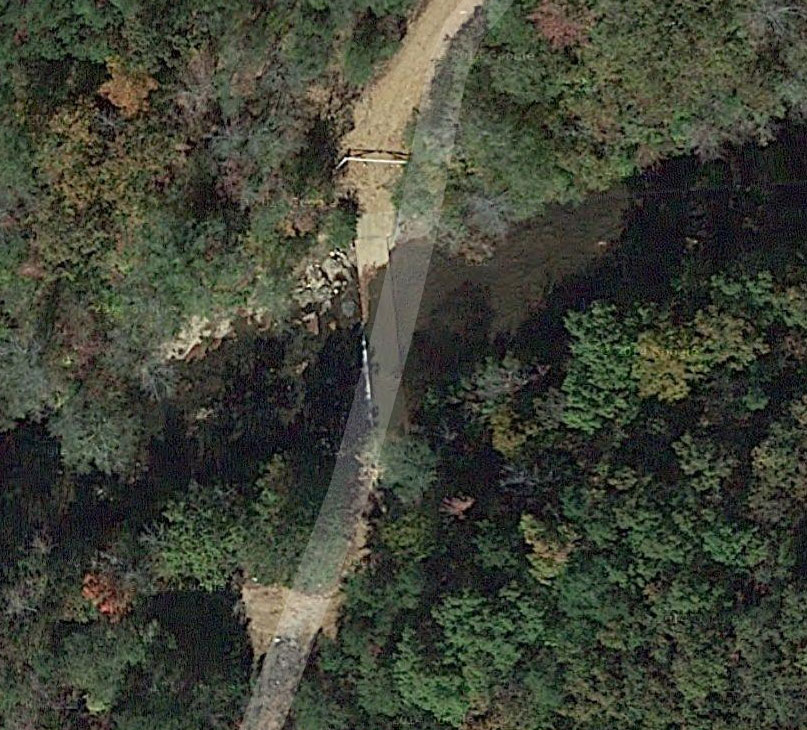 My original route had me riding 10 miles of dirt through the Coosa River Wildlife Management Area in order to cross one of the rivers at this underwater bridge – but I also had a contingency plan in case of rain.
It never did rain on my ride, but the rivers were all very high and the ground was still pretty muddy from the previous days of torrential afternoon thunderstorms so I took the alternate route, which had two one lane bridges instead. That route only had a few miles of dirt, but it included a pretty steep cat 4 climb followed by a long cat 4 descent back down to pavement at river level on the Lay Lake Dam road.
Coming across the dam bridge, I ran out of water for the THIRD time and ended up calling Kristine to see if she could look at Google maps to see if there was anything at the next major intersection. Fortunately she saw an old looking gas station so I passed up begging water off somebody at the few houses along the way and ended up at an old country store / two pump gas station that was about to close for the day (It was Sunday just before 7pm). I got some much needed water and food and then headed off for the last push home.
I made it home just after 10pm having ridden 309 miles and returning to the same spot 19.5 hours later. We practiced a RAAM "end-of-day" by eating dinner Kristine had made while she massaged my legs, followed immediately by sleeping. Unlike RAAM, I set my alarm for 6 hours (instead of 3) to get up in time to ride to the Tour de Blue the next morning.
Tour de Blue
Normally, I am in the middle of a very busy racing schedule this time of year and unable to do the Tour de Blue. But this year with my training for RAAM, I opted for a much lighter racing schedule, which again has been an unexpected benefit of RAAM – the ability to participate in these awesome organized rides and centuries. Tour de Blue starts at the Red Diamond headquarters in Moody, Alabama just outside of Birmingham about 25 miles from my house. It is one of the Alabama Backroads Centuries and I think next to Cheaha it is probably the toughest. My view could be skewed having just ridden 309 miles 6 hours before the start of the ride – but in any case it was really, really hard.
As a quick sidenote, the Alabama Backroads Century series consists of 13 100+ mile centuries and is organized by the awesome Pixie Hicks. I think this series has done so much to bring awareness to the awesome biking in Alabama. The Tour de Blue was my third Alabama Backroads Century this year, so I only need to do one more to earn a patch for having completed at least four. I really want to do the Tri States 100 down in Dothan this coming weekend, but it's too close to RAAM and too far away to work in logistically immediately before leaving to drive out to California. So I will probably do either the Hot Hundred in Tuscaloosa and/or the Ironworks Century in Tannehill after RAAM is over.
Back to the Tour de Blue, there were a LOT of strong riders including members of the Astellas Pro Cycling team who made the trip over to participate. We started out fast, but it was manageable until we hit the stair-stepping climb up the backside of Mountain View road. I came off towards the very bottom and was joined by Justin Bynum who had stopped briefly and was in the process of catching back up to the group. We rode together and chatted about RAAM and life until we made it to the rest stop on top of Straight Mountain with its amazing view looking down into the I-59 / Walker Branch and Coosa River valleys all the way out to Cheaha on a clear day – but the weather has already shifted into a summer pattern of lots of heat, humidity, and haze. So even though the view was great (see pic below), you couldn't quite make out Cheaha through all the haze.
We did catch a bit of a break b/c of road construction … instead of climbing up and over Chandler Mountain, we went around Chandler Mountain. Normally, I'd be a bit disappointed, but today I was super, super thankful not to have to do the steep 1 mile / 11% average, 18% max climb up to Horse Pens 40. The picture above shows the side of Chandler Mountain that was passed around as well as the view from the rest stop atop Straight Mountain.
Rounding Chandler Mountain we ended up in a long headwind stretch where a bunch of small groups came back together into the Ashville rest stop. Leaving the rest stop we had maybe 15 riders together, but there was a sharp steep climb with a 50mph descent that really split up the group. Initially I had planned on waiting, but then I thought it would be good to get some good solo riding in when I'm really tired so I kept on going.
A highlight road was AL-23, which I always imagined as flat and boring. Instead, it snaked along the river bluffs from Walker Branch and Canoe Creek in a heavily treed section of road that offered a lot of shade. During this section, I caught up to Gerome Gacula and we rode in together the rest of the way. It was great to ride in with someone, especially through Odenville which I would rank as the least friendly city in the entire state of Alabama to cyclists. That is no exaggeration – I've ridden in a lot of places in Alabama but always run into the most problems with motorists in and around Odenville, which is a shame because the roads through there are good connectors to popular routes.
Getting honked at and buzzed a few times and also one failed attempt to fling gravel at us (Red Ford Mustang turned into a side road, waited there at the intersection until we were up alongside, and then tried to peel out and fling gravel at us. He failed pretty miserably, but it was obvious what he was trying to do). I rode 309 miles the day before through all parts of Alabama and had only positive encounters with motorists. I ride for a few miles in the Odenville area and have several negative encounters. Maybe the route could be altered to avoid Odenville altogether, although then that could be seen as a "win" for the idiots who live there and attempt to bully cyclists off the road there.
Fortunately, there was one more long stretch of good road (Kelly Creek Road) to at least partially erase the bad vibes from Odenville. Kelly Creek Road rolls alongside the highest point (Bald Rock Mountain – 1600′) in the Birmingham area and is a great way to end the ride … although the only way to get there is to ride through Odenville b/c of the ruggedness of the surrounding terrain there aren't many roads in the area.
Pixie was at the finish to greet the four of us (we had caught up to two more guys – Chris Grund and Tommy Watkins), and after a great meal and hanging out with everyone who had already been finished for a while, I took off to finish the day with a 25 mile ride back home to end with 156 miles … 465 miles total since 2:30AM the day before (approx 36 hours including 6 hours of sleep and a few hours off the bike). I am without a doubt ready for the first few days of RAAM – the big unknown is how I will respond to several days of very little sleep. Can I enter some sort of zone where I'll be able to keep riding anyway? Or will I be slowed down by sleep problems? The good news in that area is that I seem to respond well even when utterly exhausted to just a few hours of sleep. I can always take an extended 6 hour sleep break to recharge my mind before continuing without really impacting my overall time – as long as I only need one of those! We'll find out exactly two weeks from today!!!