Racing Camp Sumatanga RAAM-style, redux
This past Sunday was the training race series finale with a 100KM race ending with a steep 1 mile cat 3 climb to the top of Chandler Mountain. I had a four day block from the end of last week until Tuesday of this past week where I rode 586.9 miles with 73,087 feet of climbing. I had a pretty light load the rest of the week, and I wondered if I would be recovered enough for the race. It didn't really matter, though, because the weather was absolutely beautiful and I was able to enjoy a shorts / short sleeved jersey ride all the way to the start of the race.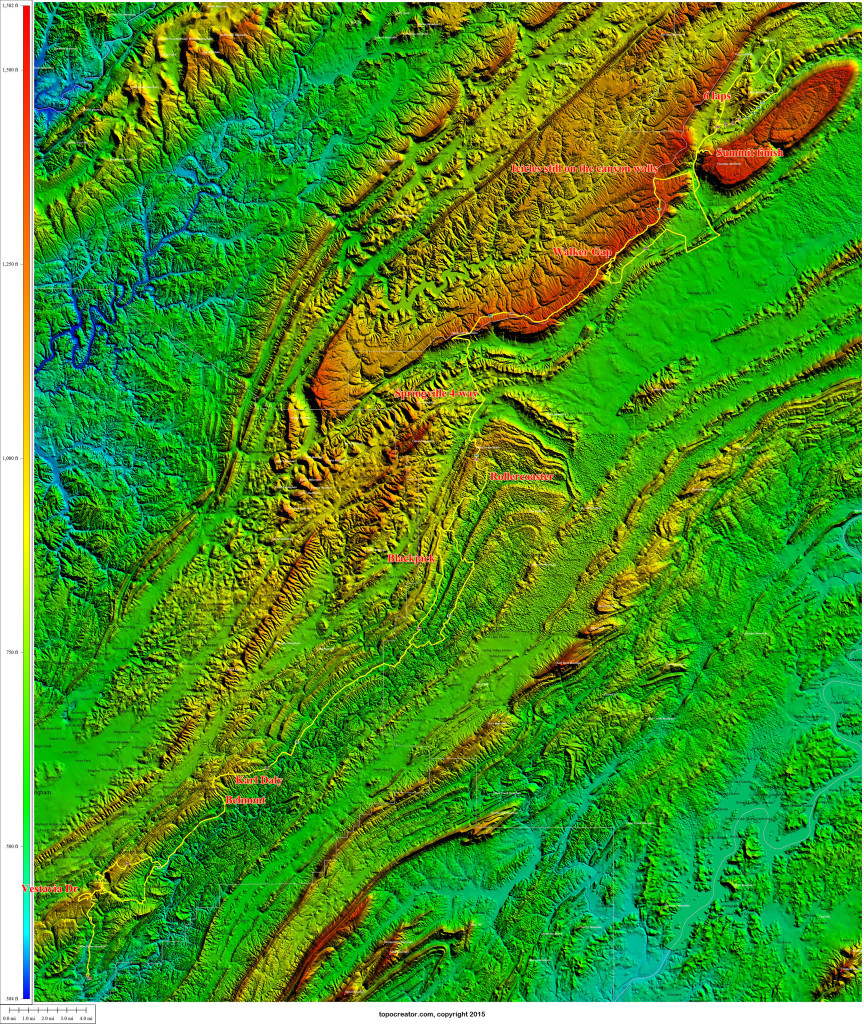 Annotated topocreator map of the race and the route there and back again (click to enlarge).
We had a smaller field this week with a number of riders heading over to Gainesville, Georgia for a race weekend. But the field that remained was really strong, which meant that the race was pretty hard as evidenced by the HR and power data below. Alex Ray took the win after being away solo for much of the first part of the race. It took a really concerted effort to finally bring him back with two laps to go. It remained mostly neutral until Travis Sherman attacked repeatedly to eventually get away solo before the climb. Ryan Jones also took a flyer on the run-in to the climb leaving me at the front of the field setting the pace into the climb. I led into the sharp 160 degree turn to start the climb and Ryan's teammate, Justin Prior, attacked hard. I knew that I could not maintain that pace so I settled into my own pace. Pretty soon Alex came by me and eventually caught and pulled ahead of Justin. I did my best to stay in front of David Potter who was closing in on me as we neared the motorcycle bar. Fortunately, I was able to hold on for the final podium position.
After the race, Justin and I grabbed our stuff and headed back on an 80 mile ride back to Birmingham. With a storm system moving in fast, I cut off a bit of the route and took us farther south to try to stay below the main part of the storm but we still got clipped with a persistent light rain for about half of the ride back. Probably the highlight was the roller coaster descent off of Mountain View on the cut-through over to Blackjack Rd. I've only ever ridden that the other direction as a climb so it was great to see how much fun it was going back the other way as a descent.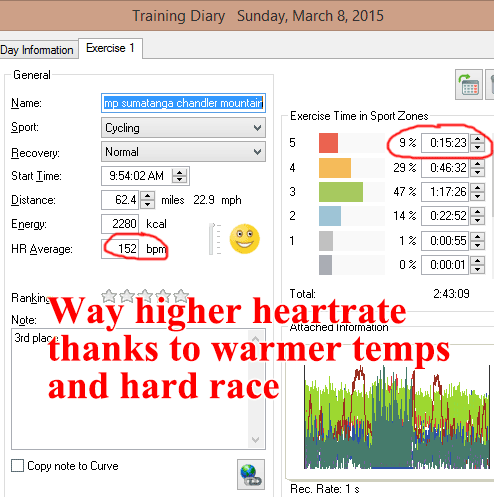 Heartrate zone summary.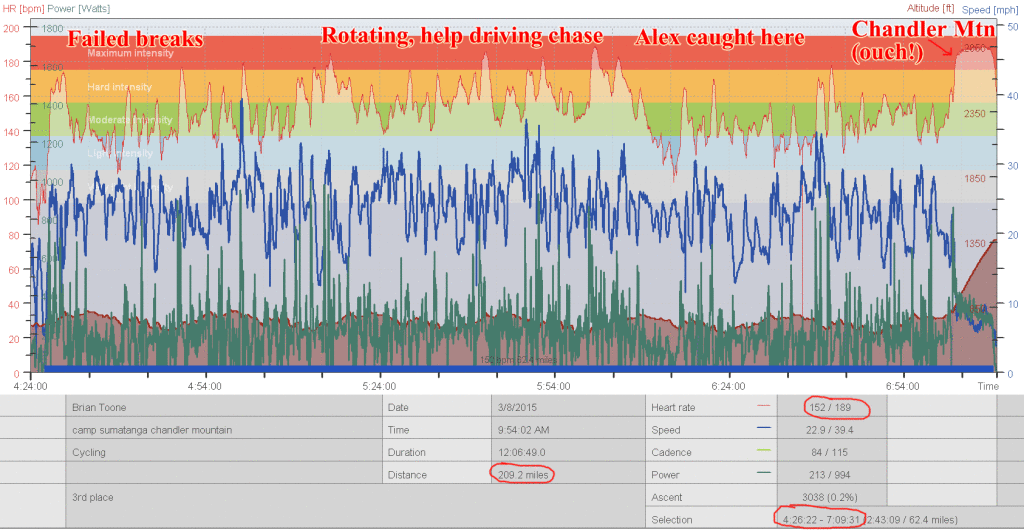 Annotated heartrate / power plot (click to enlarge)
Tuscaloosa Locks Toone-style (TLT)
I named this ride for my dad's initials, which was the first thing I thought of when my friend Jeff Fuller recommended I ride out to Tuscaloosa and explore all the lock climbs. I've always been fascinated with the topography near the Black Warrior River, but it is a bit of a challenge to reach on normal length rides. Training for RAAM has opened up all kinds of new possibilities for locations to ride and explore, and the Tuscaloosa locks area is one of them!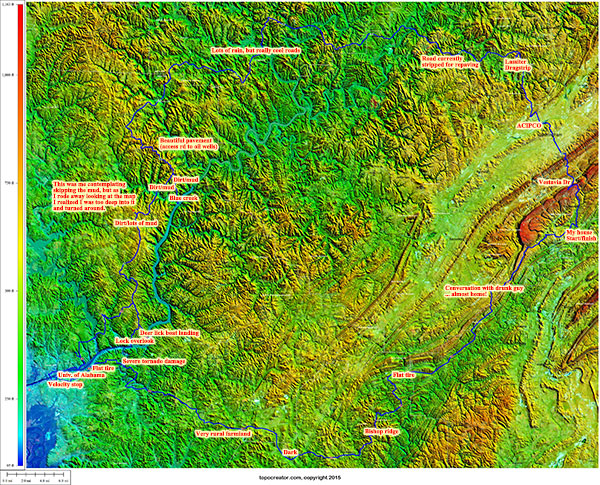 Tuscaloosa Locks Touring topo map (click to enlarge and see detail)
I knew it would probably rain at some point during the day, but what I wasn't counting on was a cold mid 40s rain/fog for the first 6 hours of the ride. I was pretty much frozen by the time I made it down to the Blue Creek landing where mother nature decided to add another twist with the temps plummeting another few degrees at lake level right at the time that it started to rain even harder. I made a makeshift shelter (shown below) out of a trash can lid to protect my electronics which needed recharging. I shivered for a few minutes and then headed back up the climb leaving a few things recharging in my backpack.
Fortunately, the temps started to finally rise, and the rain started to end. By the time I met up with Jeff near the Deer Lick boat launch we only had a couple short bouts of rain left and much warmer temps. It was really nice by the time we made it all the way through Tuscaloosa, stopping by Velocity Pro Cycles where I got to chat for just a couple minutes with my friend Ed Whitehorn. Our ride through campus was at rush hour so there was lots of traffic, and unfortunately I ended up getting a flat somewhere on Jack Warner parkway. I managed to break one of my tire levers during the change so I knew if I flatted again I would be down to one tire lever.
Jeff and I rode all the way out to the West Blockton road (Co Rd 9, I think) before he needed to turn around to head back home to Tuscaloosa – still making for a 100 mile day for him. I continued on southeast towards West Blockton heading for Bishop Ridge, which I just knew would be the location of my second flat tire. Ironically, I picked my way around all the potholes and gravel all the way to the main Co Rd 12 (Bibb) – Co Rd 13 (Shelby) corridor where I knew the pavement would be good. Within seconds of turning onto the road, however, I was basically up out of the saddle sprinting trying to get home before the kids went to bed and in the dark with my lights on low to save battery I drilled straight into a huge pothole. It was hard enough to twist my handlebars over and pinch flat my rear tire which had flatted earlier.
I thought for sure this was going to be a "come rescue me" moment, but thanks to my friend Chris Winslett out in California who showed me how to get a tightly mounted tire off with just one tire lever I was able to get the tire off after a few minutes of struggling. The rest of the tire change was easy, and I was on my way to finish up the ride. This was really important that I make it all the way back to my house after not quite making it there at the end of this awesome adventure two summers ago when I was first thinking about RAAM.