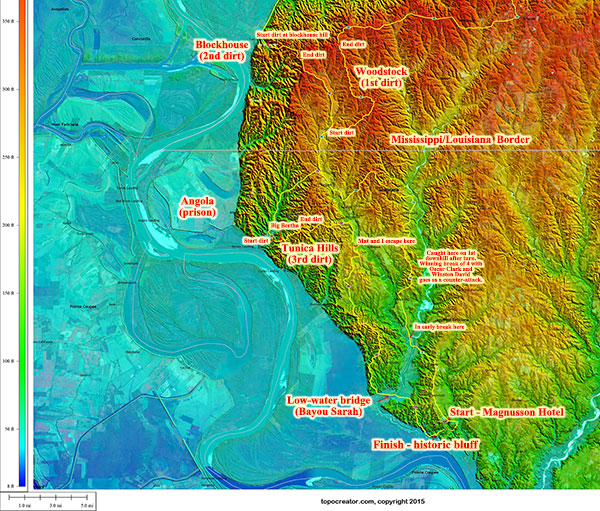 topocreator.com map of Rouge Roubaix 2015 (click to zoom)
Every year I look forward to Rouge Roubaix and coming down to this unique corner of Louisiana and Southwestern Mississippi. The race itself has everything you'd imagine in a spring classic like Paris-Roubaix or Ronde van Vlaanderen (Flanders) – from strung out fields barreling down dirt roads at 30mph to tactics of making a break, chasing a break, or figuring out the run-in to a tricky sprint at the end of the race. No matter how experienced you are, it's impossible to come away from this race without having learned something new about bike racing and/or yourself. Each category (even beginner) races the full distance of 100+ miles covering about 15 miles of gravel/dirt roads and some paved roads that are significantly harder to find a good line than the dirt roads.
The unique topography of the river bluffs above the Missisippi River delta is just fascinating with two Category 4 climbs rising up from essentially sea level to 400 feet. Plus, everything is so wet that the dirt roads sink down under the trees. See the annotated topocreator.com map above and the elevation profile and instagram photo below:

Annotated rouge roubaix elevation profile (click to zoom)
How the race played out (P/1/2)
After the neutral section, there were a couple short-lived breaks. I was working my way to the front when I saw an opening and a rider about to attack. I hopped right on his wheel and we quickly got a gap. Three more riders bridged up to us, and our break of five quickly got a gap on the rest of the peloton. I thought this break had a good chance to survive all the way to (and possibly through) the first dirt section – but alas, we were chased down a few miles later after making the right-hand turn off of LA-66.
Oscar Clark (Hincapie Racing) and Winston David (Lupus Racing) and two other riders counter-attacked and quickly got a gap disappearing way out of sight. By the start of the 1st dirt section, they already had a 3 minute gap on the field. I worked my way towards the front and entered the 1st dirt about 5 riders back from the front but slid backwards and eventually off the back of the group. I'm not sure why but I did take a few bad lines and hit some potholes hard losing a bottle. I think I lost my nerve a bit not wanting to flat and tried to stay a little bit farther back to see better.
Traditionally, after the first dirt section there is a general regrouping and slow easy pace for the next 30+ miles of pavement. This year was no exception, but when you are off the back and out of sight of the group you have no way of knowing for sure what the field will do so Jake Andrews and I drilled it hard with one other rider and made it back up to the group with no problem. There is a huge advantage of being off the front in an early break here – which was my goal given that I knew I would have the endurance to last all day with a bazillion miles in my legs – and it almost happened, I just went one break too early!
Even so, the early break usually gets tired by the end, and there is always a good chance the leaders from the field will catch them. So I knew the race wasn't quite over, but I was at the back of the field, and even though I tried my best I couldn't work my way through the field back up to the front for the start of the second dirt section. Entering that dirt about mid-pack meant that I was too far back to go with the inevitable split in the field. I worked my way through all the carnage, though, and once again found myself in one of the first chase groups.
This group was a bit large for my liking but we still worked fairly well together with only a few riders skipping pulls every now and then. Big Bertha at the beginning of Tunica Hills blew apart our group but not because of loose gravel this year, but rather because the dirt was hard-packed enough that you could fly up it. By the time we made it through Tunica Hills, our group was trimmed roughly in half to maybe 5 or 6 riders. A few more riders caught back up to us, but right about that time Mat Stephens (Elevate Cycling) surged a bit on the first steep hill after the dirt. I was coming off a pull so I was right there and surged with him, and we quickly had a gap over the top of the hill. I wasn't able to help Mat as much as I would like at the beginning but as he began to get tired, I was able to start pulling. Even so, the chase group behind was never out of sight on the long straightaways. We held it to the end where Mat took the sprint easily and I got to ride by Kristine and the kids who ran alongside to the finish.
Epic race, epic finish, epic adventure!
Post-race fun:
Garmin stats:
Annotated heartrate data: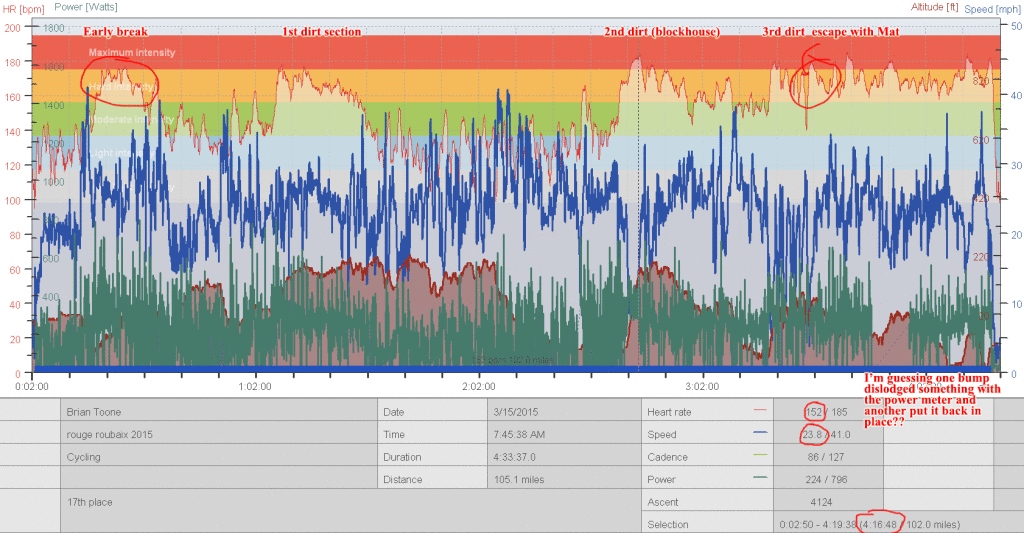 Annotated rouge roubaix heartrate and power data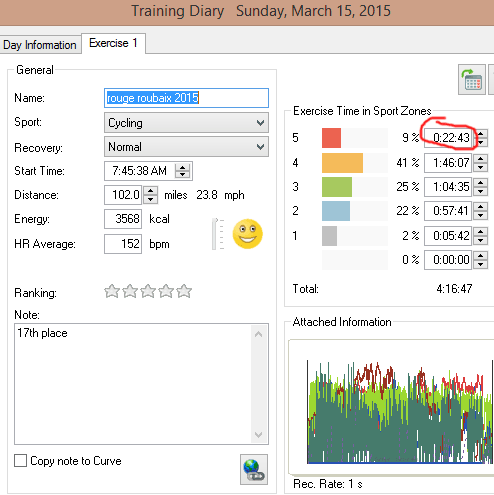 Finally, after six years I saw an alligator thanks to Kristine's eagle eyes!