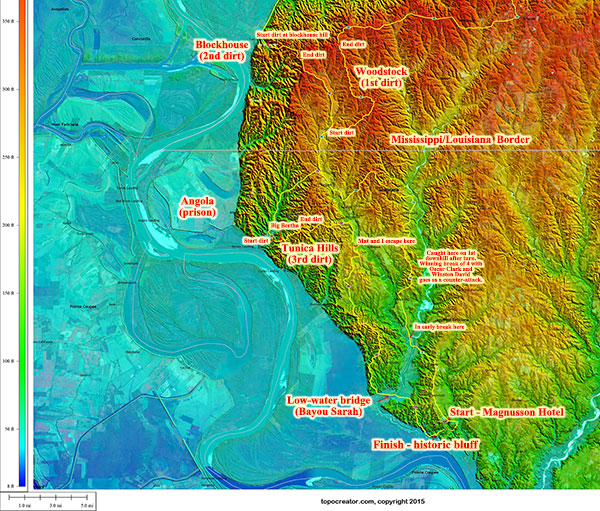 topocreator.com map of Rouge Roubaix 2015 (click to zoom)
Every year I look forward to Rouge Roubaix and coming down to this unique corner of Louisiana and Southwestern Mississippi. The race itself has everything you'd imagine in a spring classic like Paris-Roubaix or Ronde van Vlaanderen (Flanders) – from strung out fields barreling down dirt roads at 30mph to tactics of making a break, chasing a break, or figuring out the run-in to a tricky sprint at the end of the race. No matter how experienced you are, it's impossible to come away from this race without having learned something new about bike racing and/or yourself. Each category (even beginner) races the full distance of 100+ miles covering about 15 miles of gravel/dirt roads and some paved roads that are significantly harder to find a good line than the dirt roads.
The unique topography of the river bluffs above the Missisippi River delta is just fascinating with two Category 4 climbs rising up from essentially sea level to 400 feet. Plus, everything is so wet that the dirt roads sink down under the trees. See the annotated topocreator.com map above and the elevation profile and instagram photo below:

Annotated rouge roubaix elevation profile (click to zoom)
How the race played out (P/1/2)
After the neutral section, there were a couple short-lived breaks. I was working my way to the front when I saw an opening and a rider about to attack. I hopped right on his wheel and we quickly got a gap. Three more riders bridged up to us, and our break of five quickly got a gap on the rest of the peloton. I thought this break had a good chance to survive all the way to (and possibly through) the first dirt section – but alas, we were chased down a few miles later after making the right-hand turn off of LA-66.