Back to Back Weekends
Back to back race weekends last weekend and this weekend. I won Friday's Heart of the South 515 mile race just missing the course record only five days after placing 25th in a strong Pro/1/2 field at the inaugural Fort McClellan road race last weekend with lots of strong teams visiting Alabama from around the country as part of the national criterium calendar kickoff event (Sunny King) in Anniston. I raced that race RAAM-style meaning I left my house at 3AM and rode the 80 miles to the start of the race, raced the race, and then afterwards rode home a longer way going up and over Mount Cheaha for a grand total of 255 miles of racing and riding. There is so many great things I could say about that race — primarily getting to see a lot of friends from the racing community that I haven't seen much this year because of my RAAM (Race Across America) training, but in the interest of time I'm going to skip straight to how the Heart of the South race went down this weekend.
Heart of the South – Start to Camp Comer
Tailwinds and thunderstorms
Friday was a beautiful day – I rode my bike to and from Samford to teach my Friday classes as usual (16.6 miles round trip). Later in the day, my awesome crew of Michael Staley and Payne Griffin drove over to my house so we could pack up everything for the race.
Side note – huge shout-out to my rookie crew of Michael and Payne. Those two guys did an amazing job of anticipating my needs for food, drink, and bike supplies. Plus, they did a good job of staying awake for a really long time as well as keeping me awake late in the race when I hit my sleep wall. Thanks guys!!!!
Side, side note – huge shout-out to my sponsors as well. Raymond James has been behind me financially and helping to get the word out to other companies and individuals who might be interested in joining our team. My Martindale wheelset was amazing again this year. I'm excited for the new Carbon Clincher wheels Philip will be getting me for RAAM – easily shave hours (if not at least half a day) off my total time!
An hour or so later and we were off to drive the 3 miles from my house over to the Colonnade for vehicle and bike inspection prior to the start at 8PM. My wife and son saw me off at exactly 8PM as the first rider heading out Blue Lake Dr to Sicard Hollow. We knew that a line of severe thunderstorms was moving in from the northwest, so I took off from the start with the goal of riding as fast as I could to the east to stay out ahead of the storms until the course turned north.
As early as Kelly Creek Rd near Moody, we could see big thunderstorm clouds flashing with lightning off to the north. I pressed on hard with a nice tailwind and thought that I was going to beat the storms to Jacksonville, but alas on the Neely dam I felt the first heavy rain drops and pulled over immediately knowing that this wasn't going to be a gentle rain. By the time I had put on my heavier rain gear and covered up all my electronic equipment (GPS/bike computers) with ziploc bags, the storm hit us with a fury. The rain was quite heavy, but the wind was mostly a very nice tailwind. There would be occasional gusts from the side that were disconcerting, but for the most part I was cruising along at 25-30mph with relative ease given the magnitude of the tailwind behind me.
Because I was heading in the same general direction as the line of storms, the rain and lightning lasted well over an hour all the way to Piedmont, Alabama where the course makes a turn to the northwest. The wind had shifted through here and I battled some heavy crosswinds and eventually headwinds all the way to the base of Lookout Mountain. As the temperature started to drop on top of Lookout Mountain, I was weighing between the benefit of riding as long as possible vs the benefit of stopping and putting on warmer, dryer clothes. I decided shortly before the Little River Canyon scenic highway to stop and change clothes and put on a fresh headlight since I knew that my follow vehicle's headlights would not be much help with all the sharp twists and turns of the canyon rim road. This turned out to be a really good decision because there was a lot of debris down from the storms that had blown through earlier, and I needed to keep my headlight at full power to keep from running into fallen branches, trees, rocks, and animals (one bunny, one skunk, and possibly some sort of wild cat — looked too big to be a house cat and too far away from houses to be somebody's pet).
After Little River Canyon, the course traverses Lookout Mountain again to the northwest side of the mountain following Desoto Parkway through Desoto state park right past Camp Comer. Josiah and I spent a great weekend with cub scouts there, and Payne from my crew also worked a few summers there. We stopped for a picture, but we were so focused on getting everything changed on my bike (lights and clothes) that I don't think we remembered to snap a picture so I included one from last year's race where we stopped at the same spot.
Heart of the South – Mentone, Alabama to Resaca, Georgia
Still flying until the Trail of Tears
The wind had died down a bit by morning, which was really great for the northerly section of the course coming off Lookout Mountain all the way up to LaFayette, Georgia. By the time the wind really started to pick up again at Snake Creek Gap, the course had turned southeast meaning that I had another long stretch of tailwind all the way to the third time station in Resaca, Georgia at the Love's Truck Stop at the intersection of I-75 and GA-136.
Everything changed, though, at the 4-way stop at the intersection of GA-225 heading north to Chatsworth. This stretch of road is called the Trail of Tears highway because it follows part of the original Trail of Tears. Without minimizing the suffering of the Native Americans, I did my own bit of suffering through here heading into a 20+ mph headwind 16 miles from that intersection all the way to Chatsworth.
With great relief I made it to Chatsworth and turned due east out of the headwind and straight into the 10 mile category 1 climb up Fort Mountain. Climbing is what I do best on the bike so I had been looking forward to the climb for a while and was not disappointed with my pace up it — beating my time up the climb last year by over 10 minutes and setting the KOM (fastest time) up the climb from the Heart of the South course. Even though I really like to climb, I like to descend even more and told my crew across the top not to bother trying to keep up on the descent as I was going to go for the KOM. I was able to get the KOM (fastest descent) of everyone who has uploaded their ride to the popular cycling website strava.com.
Heart of the South – Back into Alabama and Mount Cheaha
Struggling and then flying again
The stretch of the course from Ellijay, Georgia back to Resaca is a tough one with long hills and a steady crosswind blowing unbelievably hard at times. Through this section of the race approaching the 300 mile mark, I remembered how much more tired I was last year at this same point. I took encouragement from this and pushed through this hard section all the way to the turn on Hill City Rd NW, which starts the long journey south/southwest back towards Alabama. This section was by far my favorite part of the race this year with beautiful sunny skies and a 20+ mph tailwind through long sections of beautiful countryside.
A highlight through here was Big Texas Valley Rd because I knew that a popular local cycling race (Fouche Gap) had been held earlier in the day finishing only a few hours before I traversed the same stretch of road. This is really interesting and meaningful to me as I am by no means a traditional ultra distance cyclist. As evidence, I took a cyclocross bike with knobby tires as my backup bike for this race and plan to do the same for Race Across America (RAAM) in June. I am approaching RAAM from the background of a regular road and mountain bike racer who happens to like riding long distances. So it is interesting for me whenever the two worlds of "ultra" and "regular" racing collide.
Unlike last year when I was starting to fade hitting the Alabama border, this year I was still riding really strong buoyed by the fact that I was still on track to break the course record. This continued all the way through the climb up Mount Cheaha (see pic below) –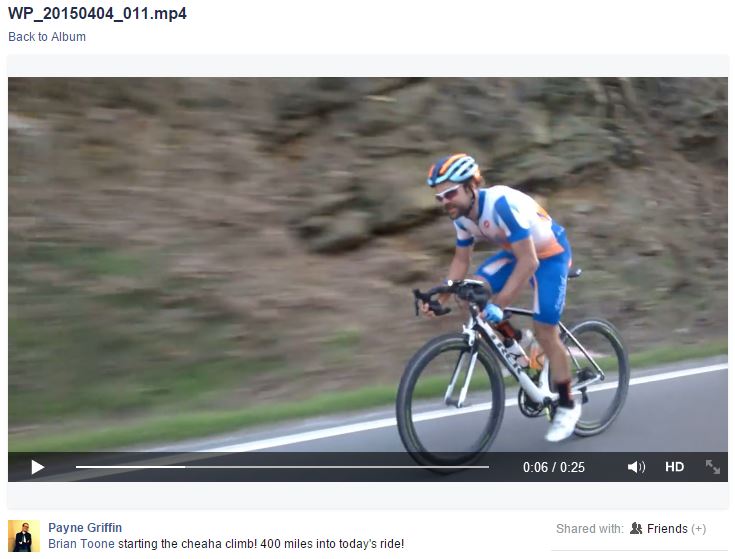 Crew member Payne Griffin got this video of me starting the climb up Mount Cheaha to Alabama's highest point 400 miles into the race
Heart of the South – Into the cold, dark night
Freezing and sleeping
At the top of Horseblock Mountain before the final three mile climb to the top of Mount Cheaha, I stopped to put on warmer clothes. I was able to climb Mount Cheaha without weaving this year. And I was very thankful for the warm clothes across the top as the temp plummeted on the descent into the huge Coosa River valley that includes Talladega. I hit a "sleep wall" in the valley and my pace plummeted right alongside the temperature. I watched the course record slip away as I was struggling to keep awake on the bike. But thanks to a lot of coffee beans and my crew's hoops and hollers to keep me awake, I was able to make it all the way back to the Colonnade by 2:13 AM Easter morning – 30 hours and 13 minutes after leaving Friday night. This saw me miss the course record by about 30 minutes, but improve my time from last year by over 1.5 hours.
Heart of the South – Data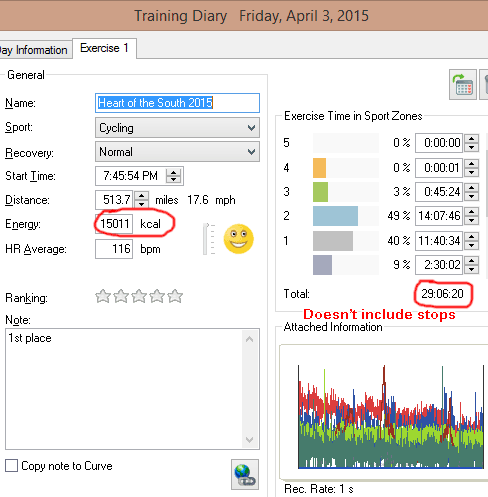 Heartrate zone summary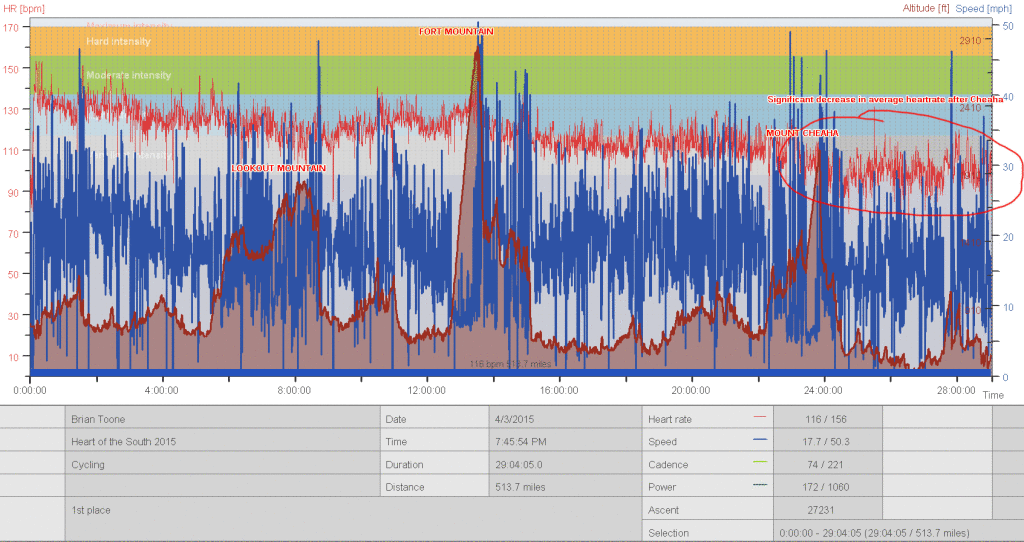 Annotated HR plot (note the drop in average heartrate after Mount Cheaha) – click to enlarge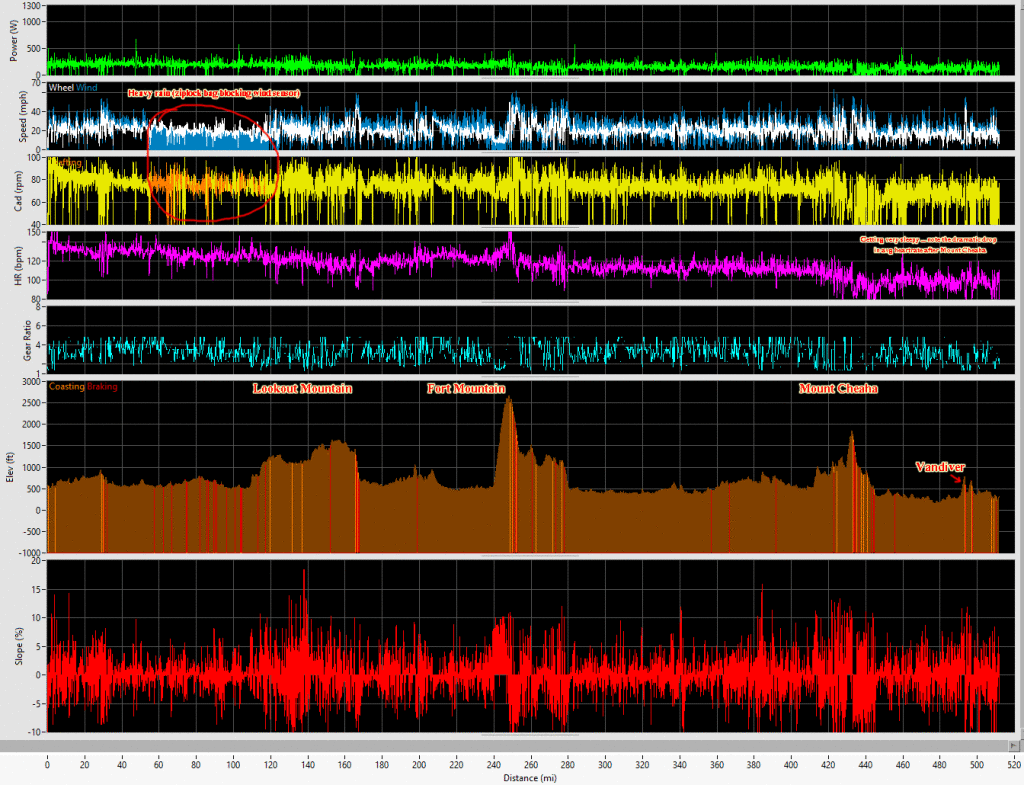 Annotated ibike data – you can clearly see where it was raining (blocked wind sensor) – click to enlarge