No matter how the Race Across America turns out this summer, I will have gotten a chance to explore some absolutely amazing parts of Alabama. Since January, I've ridden 24 rides of at least 100 miles (23 Alabama ones shown in the map below). I wanted to create this map because of my ride on Tuesday where I found myself unexpectedly riding in a new county – Coosa County – for the first time. These rides have been in three different states and 29 different counties.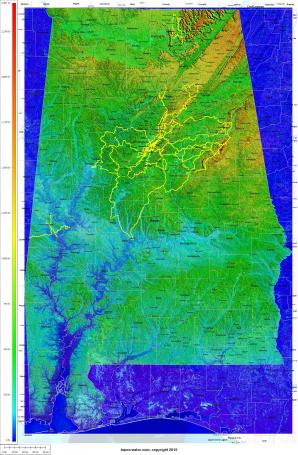 23 rides of 100 miles or longer in 2015 (click to enlarge)
Here's a quick recap of my three most recent epics.
The Baseball to Baseball Ride
Last Friday, I rode to the start of my son's baseball game, watched the game, and then rode all the way out to Cheaha and back (218 miles and 17,000 feet of climbing) to make it back just in time for the start of my son's Saturday morning baseball game, watched the game, and then rode 10 more miles to practice having to start riding again after a long break. Along the way I broke my speedplay pedal and had to be rescued by my lovely wife Kristine. I swapped out the pedal and finished the ride.
Unexpected Coosa County
For this ride, I wanted to do at least 250 miles so I picked a long route home from Cheaha that ended up crossing over into Coosa County. This was the inspiration for this post – to see how many counties I have ridden in so far this year (only counting the rides at least 100 miles long). The highlights for this ride included seeing three bunnies, two huge army transport planes flying less than a couple hundred feet above the pine trees directly above me, and the Coosa River below Lay Lake.
Skyball plus finding Cullman County
Few of my recent long rides have headed north of the city so when I was looking for something in the range of 150 miles, I decided to head back up to Skyball for the first time in a few months. I wanted to finish early in the day to get caught up on work, so I left again before 2AM. Along the way, I rode AL-75, which is an extremely flat road through Pinson valley all the way up to Oneonta averaging well over 20mph putting me way ahead of schedule. This was good because I took some new roads and found some cool bridges to document, including a flooded low water bridge that ended up being deeper than it looked standing in the shallow section in the dark not able to see far enough to the deep water. Fortunately, I made it so I could also document the Swann Bridge that I found later in the ride. Check out the pics below!
Next up is a 275 ride tomorrow riding to the start of the Fort McClellan road race, racing a loaded Pro/1/2 field, and then riding back home via Cheaha. My route will include the opening 75 miles and the final 90 miles of the Heart of the South 500 mile race coming up next weekend.