I'm happy to report my first win of 2015, and it was quite the epic! I rode from Birmingham to the training race up near Gadsden, won the 50 mile A race, and then rode back home to Birmingham for a grand total of over 200 miles and just under 20,000 feet of climbing on the day. This was in the middle of a very heavy block of training with the following rides:
| Day | Distance | Climbing | Description |
| --- | --- | --- | --- |
| Sat | 155.6 mi. | 32,618 ft | February climbing challenge |
| Sun | 203.9 mi. | 19,377 ft | Camp Sumatanga training race |
| Mon | 18 mi. | 2,700 ft | Short commute recovery |
| Tue | 209.4 mi. | 18,392 ft | Tuscaloosa locks touring adventure |
| 4 days | 586.9 mi. | 73,087 ft | 4 day block totals |
The Camp Sumatanga training race series put on by GS Montagna Rossa of Birmingham has been a stalwart of early season racing for the Alabama cycling community for many years. Bill Seitz and his crew of GSMR teammates do an excellent job putting on this race year after year. For the second week in a row, the weather was not very cooperative with an annoying light misty rain for most of the day. At least this week, though, it wasn't quite as cold with temps hovering around the upper 40s most of the day (and night).
I timed my ride to the start pretty well picking a 75 mile route that included Walker Gap and Chandler Mountain (if time allowed). I was running a little bit ahead of schedule so I went ahead and climbed Chandler Mountain at a very easy pace to kill some time before the race and to see the climb one more time before we race it for real at the finish of next week's training race. By the time I finished the climb and headed back down to the camp for the race, I had just enough time to pay for the race, sign the waiver, and roll to the start line.
The attacks started early and often, but this week there were several people and teams interested in covering the attacks so I didn't have to chase down as many. I made sure to be close enough to the front to be in every move. Everything came back together by the end of the first lap. There was an attack shortly before the 1KM to go climb which ramped our pace up, but the group stayed together. Near the top of the hill, the pace started to slow down and I attacked hard. Said Assali (Bob's Bikes) was right there with me so I thought this was perfect to get away with a rider from the strongest team there. We caught everyone by surprise and quickly got a good gap. I thought for sure we were gone for good, but there was just enough of a downhill and just enough motivation at the front behind for a small chase group to catch us — Justin Prior (Johnson & Hayes Physical Therapists), Jason Kellen (Bob's Bikes), Nathan Spence (Auburn), and Alex (Alabama) worked their way up to us by the start/finish line.
Our break worked well together and quickly got out of sight of the main field. I noticed on the next couple laps that Jason who can absolutely crush a sprint and would easily take the win if we stayed together to the finish was struggling a bit on the long hill after the start/finish. So with two laps to go I decided to attack to try to split up our break. It worked and it ended up being me, Justin, Nathan, and Alex ahead of Jason and Said chasing us hard after the hill. We drilled it up front absolutely as hard as possible and gradually extended our gap over the Bob's Bikes duo. One lap later at the start of the final lap, Justin attacked at the same spot I had attacked on the previous lap trimming our break down by one more rider as Alex came off the pace.
The three of us worked well together the rest of the lap as I liked my chances in the sprint knowing that I had the most experience in our group on how that sprint plays out. I decided to test the waters early though with 1KM to go with a 95% attack seeing how fresh Nathan and Justin were. Both came off immediately so I ramped it up from 95% to a fully committed "this is it" attack. Nathan started closing the gap to me as I tired from my initial attack so I almost eased up to let him catch me, recover, and try to still win the sprint. I looked back one more time though and saw the distance between us had oh-so-slightly increased and renewed my commitment to the attack. Eventually I pulled away and was able to coast across the line for my first win of 2015!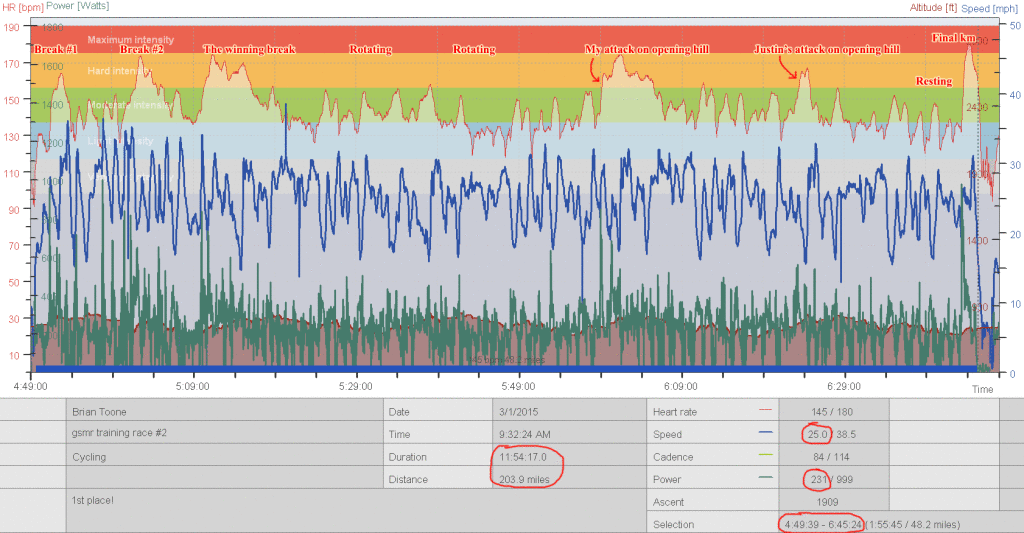 Annotated GSMR 2 heartrate data (click to enlarge).
One really interesting comparison between the weeks is how a race with a break (this week) is actually easier than a race without a break (last week) where our pace absolutely crawled at points of the race but there was a bunch of attacks and chasing.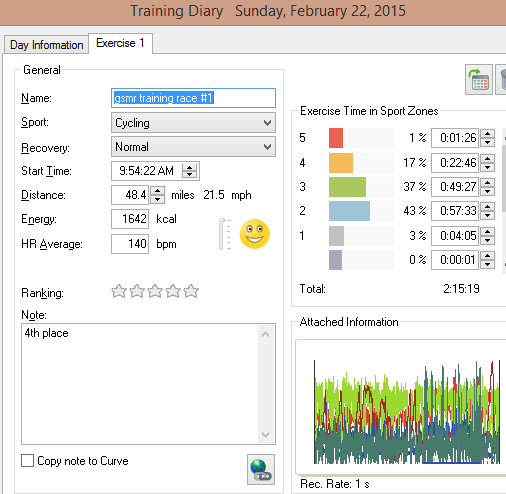 Last week's race without a break – note the additional time spent in Zones 4 and 5.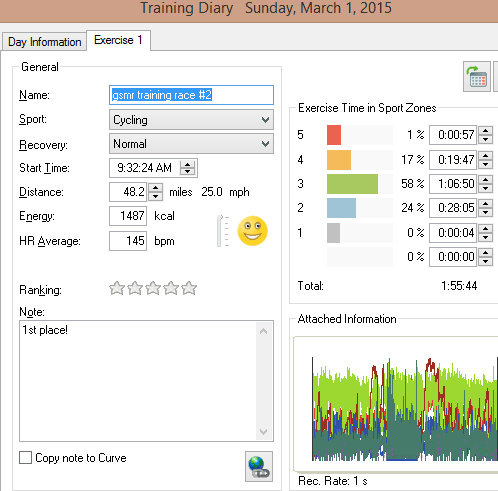 This week's race with a break – note the average speed is almost 3.5 mph faster, but there is less time spent in Zones 4 and 5.
Pics from towards the end of the ride up to the race and towards the beginning of the ride home from the race.