One of the challenges I face with RAAM is that I am a racer at heart – road, mountain bike, cross, alley cat – you name it and I want to race it. But I am also an adventurer who loves to explore roads, routes, and trails that might be terrible for training but great for adventure. While these long adventures may be great training for RAAM, they are not ideal for regular racing – i.e., starting a race with nearly 500 miles in the legs for the week before the race begins is about as opposite of "tapering" as you can get. But I've made the decision that it is worth the sacrifice of a single season of racing to really dive into RAAM and give it my best shot at actually winning the race. The only people right now who really grasp this are the awesome cycling friendly folks at Raymond James Birmingham, Philip Martindale at MC2, and a bunch of my friends.
What has surprised me, though, is that my first two races of the year have gone pretty well even with all the miles in the legs – I've already ridden 3700 miles this year and climbed halfway to the International Space Station. I think the low intensity nature of my training means that my aerobic engine is pretty big with plenty of high-end muscle fibers available for quick bursts and shorter sustained efforts since they aren't being stressed that much in training — even if it hurts like hell during the race.
Camp Sumataunga Cat A Training Race
I had great weekends of racing both this past weekend (GSMR Camp Sumataunga Training Race #1) and two weekends ago (the Union Grove Time Trial). Both weekends also involved epic pre-race and post-race rides with friends at the races. This past Sunday I placed 4th in the 50 mile training race that came after a fun four county 65 mile adventure with Justin Prior exploring the unique geology and topography of Sand Mountain – i.e., we climbed a ton.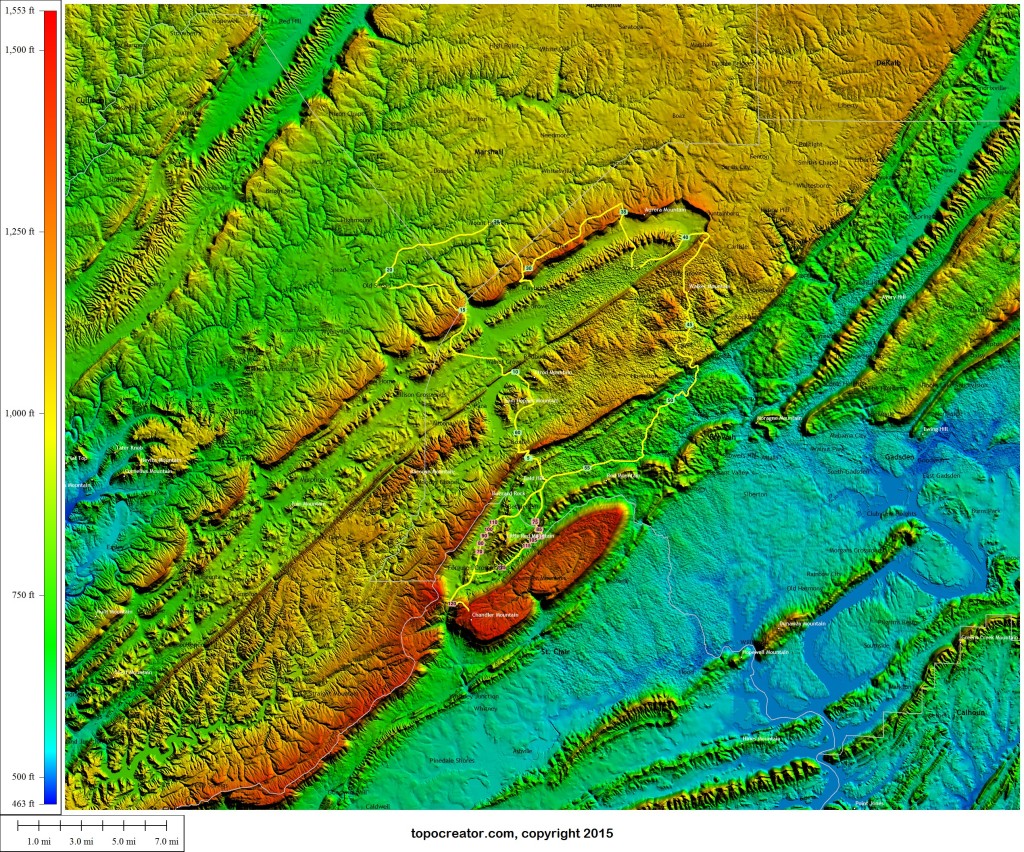 Sand Mountain exploring with Justin – plus the Sumataunga training race – plus climbing Chandler Mountain after the race. (click to enlarge)
It ended up being a pretty tactical race with Bob's Bikes / Mini Birmingham having a strong team dominating the field. I was hoping to respond off various moves and make it into a move with a couple of their riders and then try to work tactical magic to win the race. This almost worked at the end of Lap 1 when my friend Doug Robinson (Bob's) attacked to bridge up to his teammate Timo Stark who had already counter-attacked Doug's earlier move and gotten away solo. Doug and I had a small gap, but it wasn't enough and the rest of the field made it back up to us. A little while later Ryan Jones rolled off the front and eventually bridged up to Timo. Ryan had a bad crash at this exact race one year ago today so it was awesome to see him make it into the day's move.
At the start of the last lap, Said's wife Jennifer who was racing the A race with us, attacked and got away solo. I thought for sure she would quite impressively take third place but it wasn't to be when a Wig's Wheels rider slipped off the front and bridged up to her. That takes us to the end of that lap when there was an attack from some of the crew that came down from Huntsville. Doug countered this attack, which I covered. Said countered this and pretty soon the three of us plus one more Bob's rider (Marcus) were off the front of what was left of the field. So that's three on one with 3rd place just tantalizing close up the road. We didn't quite catch third, but I was able to take the sprint for fourth.
All-in-all, a really fun tactical race with Ryan and Timo taking a well-deserved win and a scrappy down-to-the-wire fight for 3rd place … happy to have snuck away with 4th place!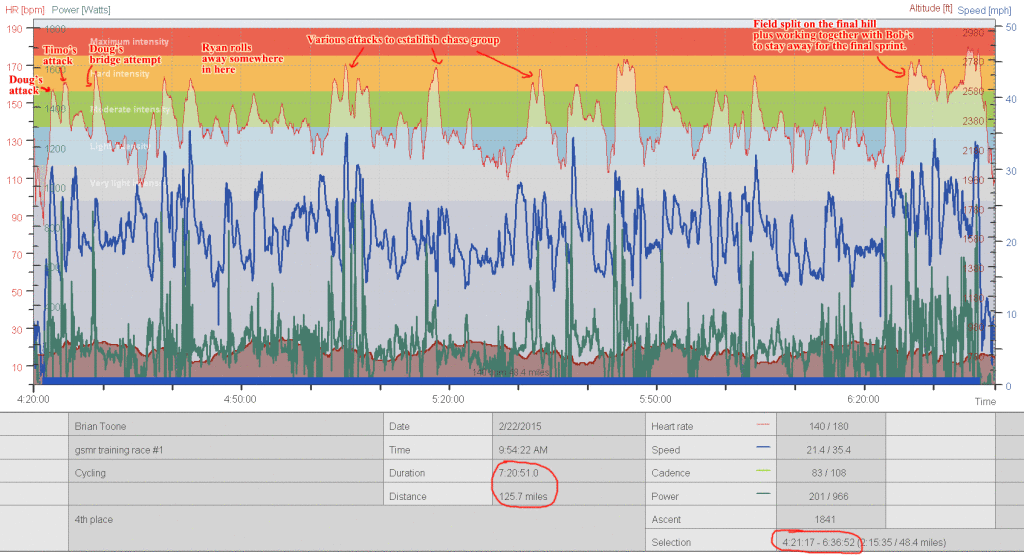 Annotated heartrate data from the GSMR camp sumataunga training race. (click to enlarge)
Union Grove Time Trial Pro/1/2
This was the second year for this time trial, and it was really well run and really well attended again this year. I think pretty much every one beat their times from last year because of the stupendous southwest tail wind. This is the perfect direction for a tailwind on the course because the nasty headwind sections are on some pretty steep downhills and the tailwinds are on the flatter gradual uphill parts of the course. I ended up beating my time by 9 seconds, which doesn't sound like a lot, but considering I had 400 miles for the week and over 50,000 feet of climbing in my legs before the start of the race and ended up racing the whole race except for the very end in mid to low Zone 4, I was happy with the result which gave my Friends of the Great Smokies team a podium sweep! (Left to right – Kurt Page, John Hart, and Me)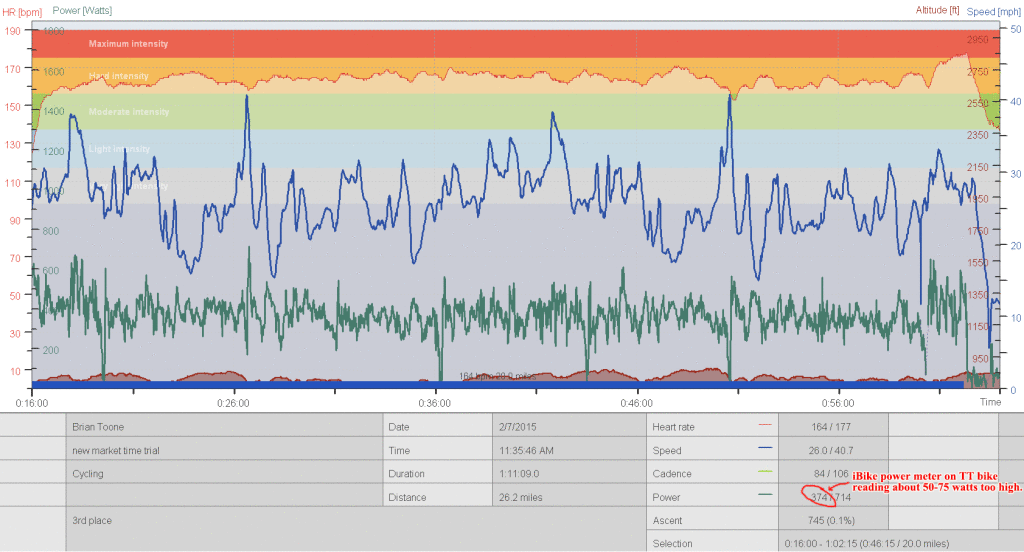 Union Grove time trial – heartrate data. (click to enlarge)
After the race, a bunch of us rode out and climbed Lewis Mountain and did its nearly 60 mph descent! Then Justin Prior and I kept going well into the night finishing up a 100 mile post-tt adventure that included climbing Keel Mountain four times followed by some dirt/gravel climbs in the dark.