Yesterday, I wanted to see how I would respond to back-to-back 200+ mile rides. My friend Michael Staley wanted to ride from Tuscaloosa to Mount Cheaha and back, but I convinced him to come join me on a ride with a ton more climbing on a shorter route leaving from Birmingham at around 1AM. My rough plan for RAAM is the following – ride for roughly 20 hours a day with 4 hours devoted to miscellaneous stops, eating, and sleeping. I want to stay on as regular a schedule as possible so I'm planning on riding until my normal bedtime of about 9PM, sleeping for 3 hours, and then starting to ride again by 1AM each day. If this plan goes exactly to schedule, then it will end up being a bit more sleep than the typical RAAM racer, but hopefully with enough energy to recoup the time with a faster moving average.
For this reason, I've been starting all my long training rides at about 1 in the morning after 3 hours of sleep. This ride with Michael was no exception. He drove over and parked out front of my house, and we left at 1AM as the neighbor dogs were barking at this unusual activity in the middle of the night. We knew it was going to be cold by the morning, but we didn't realize how cold! The picture below is shortly after sunrise near Talladega after the temp had been down in the mid teens for several hours – cold enough for beardcicles … a little bit of Wisconsin all the way in the deep south in Alabama!
There were so many fun things in this ride, but one of the highlights was Horns Valley road snaking along the backside of the Alabama Skyway ridge line – probably Alabama's longest narrowest ridge line extending from northeast of Mount Cheaha all the way down to Sylacauga. Lookout Mountain and Sand Mountain are both longer but they are so wide that you could almost just call them plateaus. The picture below is annotated on the topocreator map roughly halfway down the Horns Valley road.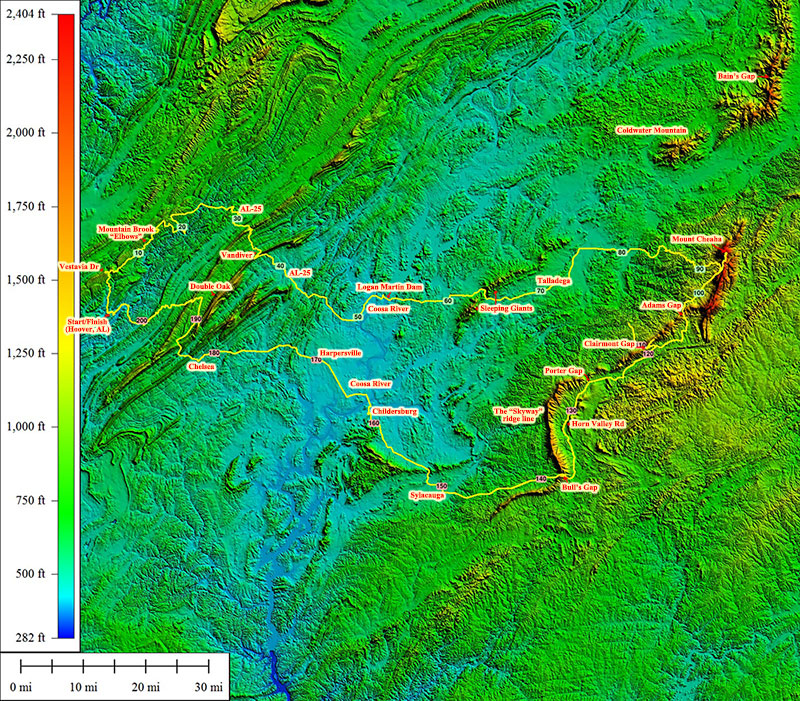 Annotated topocreator map with the Cheaha and Skyway ridge lines visible in the east. (click to enlarge)
In addition to the really fun, smooth dirt road that dwindled to a fast, fun, smooth double track in a number of places – we ended up climbing the ridge line itself at several of the major gaps – Adams Gap, Clairmont Gap (2x – both sides), Porter Gap, and Bulls Gap. During this middle stretch of the ride, the temp climbed up into the 60s thanks to the strength of an Alabama sun, but by the end of the ride a few hours after sunset we were back down into the 40s. Overall, we saw a 45 degF swing in temperature from a low of 14.5 degF near the Coosa River on our way out to Cheaha up to high of 61 degF near a different section of the Coosa River on our way back home.
One final note about this ride – I knew when I was planning out the route that we would be covering the old Bulls Gap time trial late in the ride – but I was thinking at the time of the more recent iterations of the race in the 2000s. It wasn't until I was riding with Michael and telling him about the course that I remembered that the Bulls Gap time trial was my very first time trial and road cycling event. Check out the pic from just before the start in 1993 when I had absolutely no clue that I was even wearing a world champions jersey let alone that you weren't supposed to do that!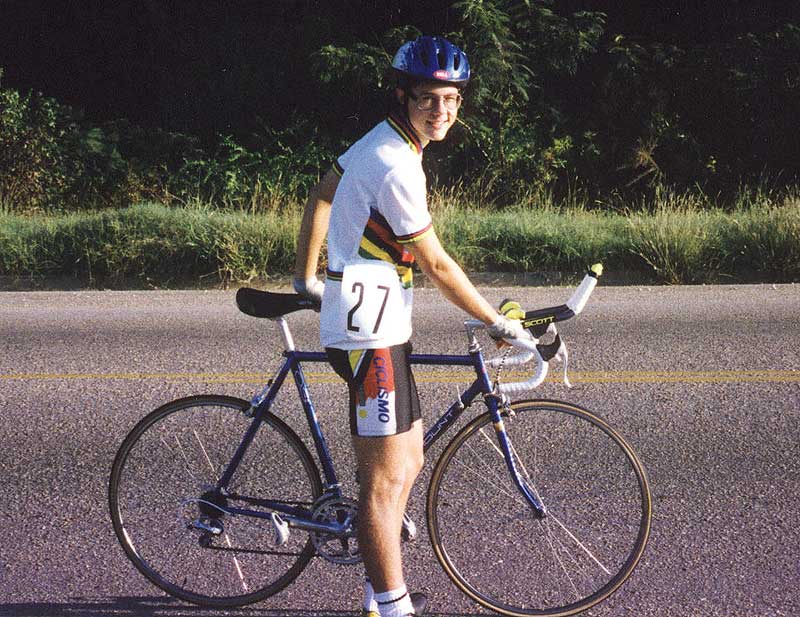 Me before the start of the 1993 Bulls Gap time trial.