One of my passions related to cycling is sharing with other people how great Alabama is for cycling. Even though Alabama recently got ranked DFL (dead last) in the country for states friendly to cycling, there is beauty to be found everywhere in the state if you are willing to brave the messiness. So as I've been structuring my really long training rides, I've been intentional in trying to explore new roads and new portions of the state. One way to keep track of that is by the number of different counties I've ridden in. The first map below shows all of my 2015 training rides and races.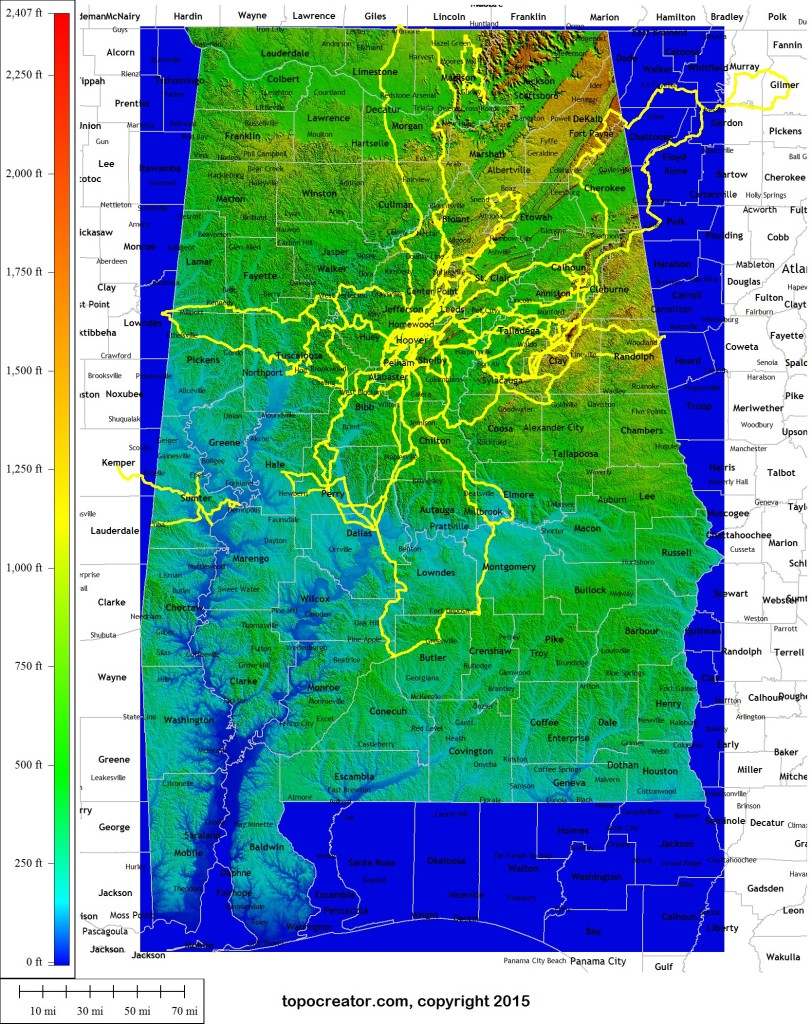 2015 training and race in Alabama. 42 of 67 Alabama counties covered, plus nearly 11,000 miles and 1,100,000 feet of climbing. (click to enlarge)
It's a bit much to claim to be an ambassador of the entire state of Alabama when I race the Race Across America, but I think it is fairly safe to say that I've biked in more parts of the state than most people! Keep in mind this is just my 2015 rides – not quite four and a half months of riding. As far as lifetime riding goes, I've ridden in every county in the state except for the following counties – Washington, Choctaw, and Clarke in southwestern Alabama as well as Barbour, Dale, Russell, and Henry in southeastern Alabama.
I'm at nearly 11,000 miles of training and racing this year almost entirely within the state of Alabama. Those rides have covered 42 of the 67 counties in Alabama. Nearly all of these rides have started and ended at my house in Hoover, a suburb of Birmingham. The exceptions are two rides in western Alabama I did during the annual meeting of the Alabama Academy of Science, one ride in Huntsville I did in conjunction with my first race of the year – the Union Grove time trial, and one ride I did in conjunction with the first training race of the year at Camp Sumatanga near Gadsden.
Additionally, one misconception about Alabama that a lot of people from other parts of the country have is that Alabama is flat. Dispelling that notion, I've climbed well over 1,100,000 feet of hills and mountains since January 1st of this year with a goal to reach 3,000,000 feet by the end of the year. This elevation total doesn't include two "everestings" where you ride the same hill over and over again in the same ride until you have accumulated 29,030 feet of climbing (i.e., the height of Mount Everest). This has to be done all in one ride, preferably within 24 hours. I everested a popular local climb here in Birmingham called Karl Daly as well as the west side of Mount Cheaha. Both of these everestings were at the end of 2014 so they aren't included in the 1,100,000 foot total.
This next map shows four individual rides to reach Mississippi, Tennessee, Georgia, and South Alabama via long 250-315 mile loops. The minimal one-way distance for me to reach Florida is 193 miles, which means a round trip of well over 400 miles if I try to make some sort of loop out of it. I still might try to do that, but I'm running out of time to work that in before RAAM.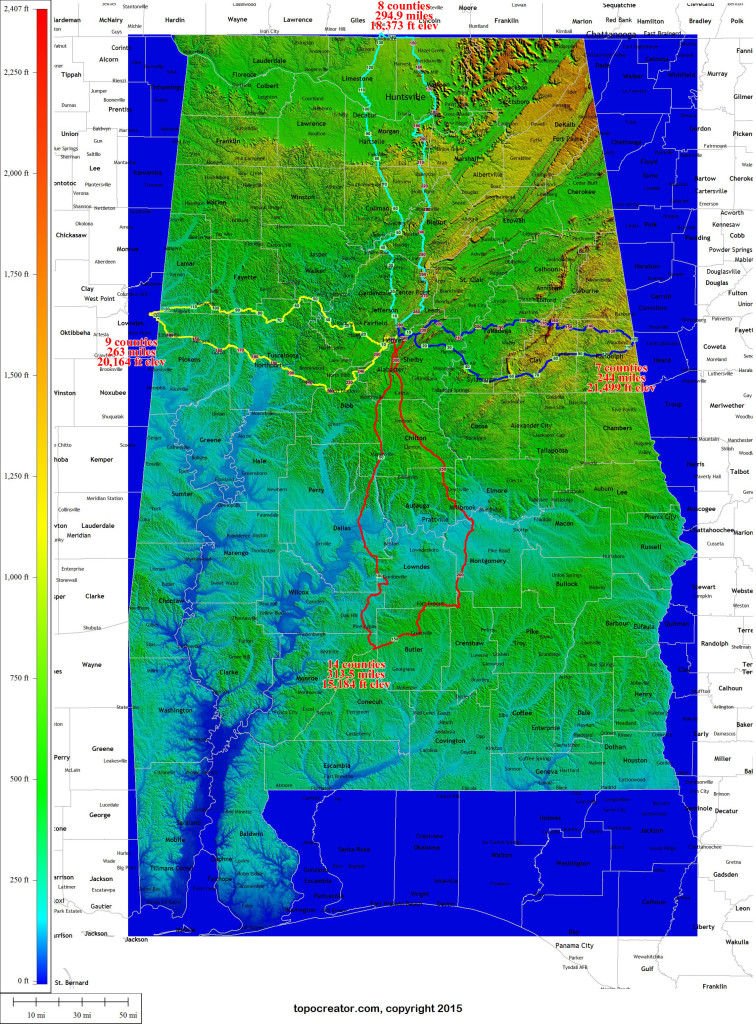 Four rides covering 30 different Alabama counties (click to enlarge)
I've posted tons of instagram pictures from these rides, but I've narrowed it down to my top 4 below (one from each of the four rides). What an amazing journey this has been as I've been discovering new places throughout this great state!
1. Monday, May 11th – South Alabama – 14 counties, 313.5 miles, 15,184 feet of climbing. The caption speaks for itself, but to emphasize the two things that I almost immediately think of when I think of riding in South Alabama is rolling hills and Spanish moss.
2. Thursday, May 7th – Tennessee loop – 8 counties, 294.5 miles, 18,373 feet of climbing. I stumbled upon this Alabama road near the border of Tennessee when I was planning out my route. I wanted to go by the state road race course and work my way north from there. As I was scanning the satellite imagery near the border, I saw a label that said "Toone Rd" and knew that I needed to include it on my route.
3. Sunday, April 26th – Mississippi Fun – 9 counties, 263 miles, 20,164 feet of climbing. Rural western Alabama.
4. Tuesday, April 21st – (Georgia) the walking dead – 7 counties, 244 miles, 21,499 feet of climbing. I named this one the Walking Dead because I rode to western Georgia within 50 miles of where they are filming the TV series of the same name. Randolph County was an awesome discovery with sweeping views of the surrounding area and lots of farmland that reminded me of Wisconsin. I've chosen the pic below as my favorite in order to put the distance of the ride into perspective. I started out so far west of Cheaha that it is not visible. Then I rode for an hour or so until you can see Cheaha. Then I rode all the way over Cheaha to about the same distance away on the east side of the mountain. Then I turned around and rode all the way back home.