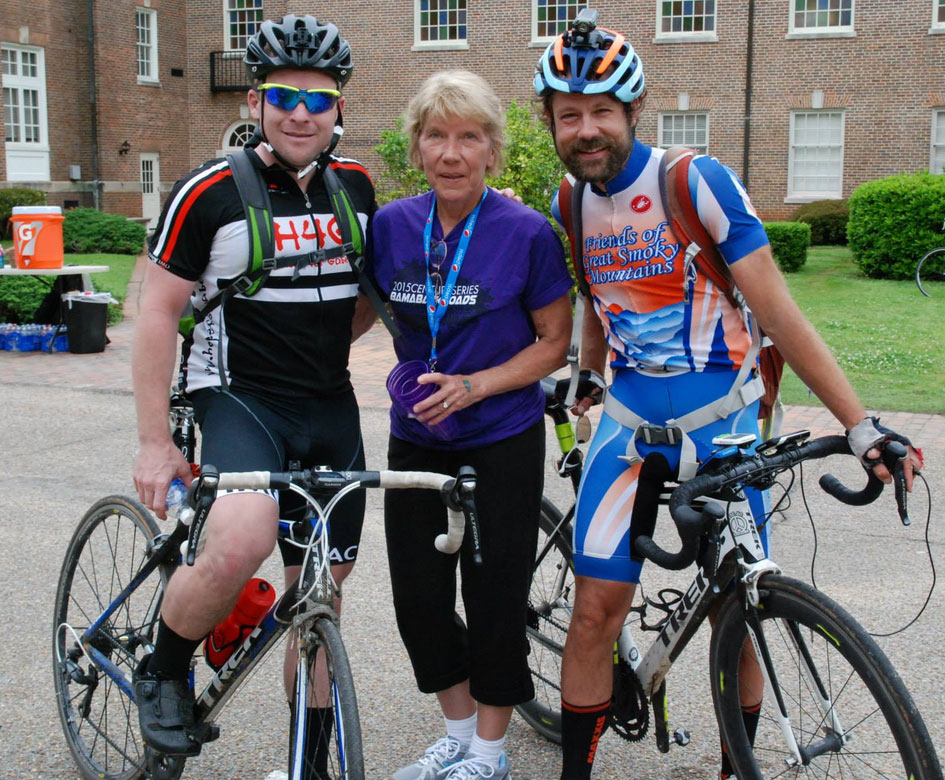 Michael Staley, Pixie Hicks, and Me after this year's Old Howard.
The longer I ride bikes, the more fascinated I am with the history of the places that I ride. The Old Howard 100 has fun personal history for me as I was fortunate to start teaching at Samford University in the Spring of 2005 when the Howard College of Arts and Sciences at Samford put on the inaugural Old Howard ride. Living the dream for me means that I got to start my position mid-year as an assistant professor at probably the only university in the country that happened to be launching a 100 mile bike ride at the same time I was graduating with my PhD.
The ride is called the Old Howard because Samford University used to be named Howard College and located in Marion, Alabama in Perry County in the middle of the Black Belt – a geological feature consisting of very rich black topsoil extending from Tupelo, Mississippi all the way across to Montgomery, Alabama as annotated in the satellite picture below: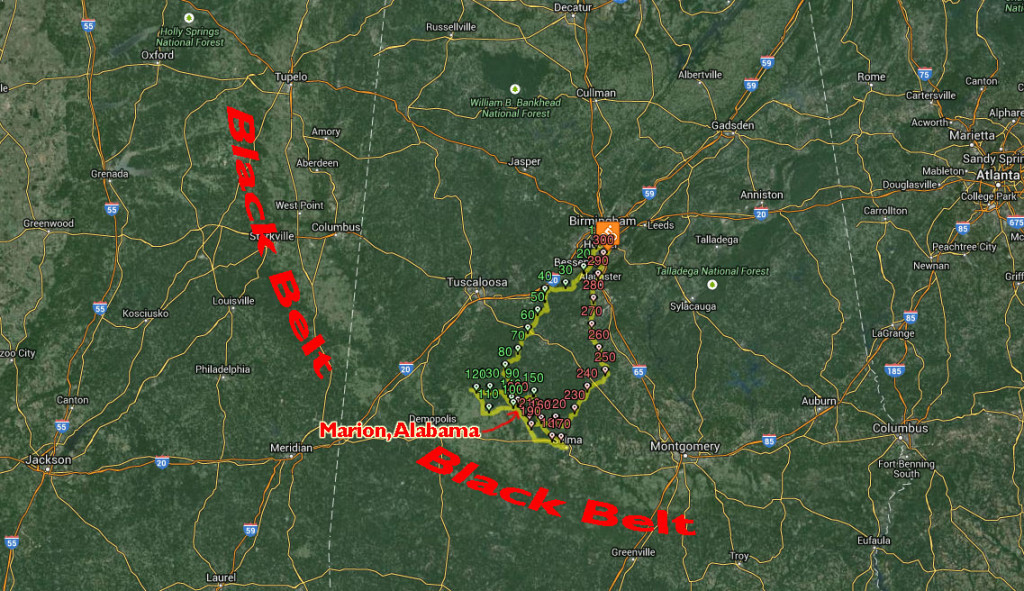 Annotated satellite view of the black belt of Mississippi and Alabama.
I decided to ride down to the start, ride the century, and then ride back home for a grand total of 303 miles. My friend Michael Staley decided to ride from Tuscaloosa and meet me halfway to join me on the rest of the ride down to the start and then the century before heading our separate ways back to Tuscaloosa and Birmingham. We rendezvoused in Woodstock in the dark in the rain and rode a cool route that included Crystal Lake Rd and Haysap Church Rd (a 5 mile dirt road that goes by a 185 year old church I found on a 2013 adventure).
I was honored to be the ride leader leaving Judson College, and it was great to be in a large group visiting Greensboro, Alabama first. Then, as we came back through some hills towards Marion, our group shrank in size until it was about 10-15 of us taking the long flat road along the Cahaba River down to Selma. Along the way, there was beautiful farmland, rivers, and forests culminating in a ride underneath huge Live Oak trees covered in Spanish Moss in Selma.
Thankfully, we had a nice tail crosswind for the last stretch back to Marion and our group flew the rest of the way averaging 22.1 mph for the entire century. After some great hot dogs and lemonade, Michael and I needed to get on the road so that we could try to make it back before the storms. We rode together for a couple blocks until he turned right to go north, and I turned left to go south to hit the corner of Autauga county before turning due north to make it back to Birmingham just ahead of the storms.
In addition to everything else that was great about the Old Howard ride and my adventure getting down there and back, I added two new counties to the list of counties I've ridden in this year – Hale and Autauga. That brings my total up to 35 counties in 6 states since the beginning of the year. Also, from the beginning of the year I've increased the number of long rides that I've been doing. This has led to 41 rides that qualify for the Strava gran fondo distance of 130 km (81 miles) or longer. These rides together have totaled 6,596 miles with 721,000 feet of climbing for an average distance of 161 miles with 17,585 feet of climbing per ride.
I called this post the Old Howard 1,000,000 because the ride took me up to 991,000 feet of climbing for the year, and today on my commute to and from work I took that total up and over 1,000,000 feet. Including all my rides this year (not just the ones over 81 miles), I've ridden 8,511 miles and climbed 1,000,348 feet. Since we are only 110 days into the year, that works out to an average of 77 miles and 9,100 feet of climbing per day. But since I have been taking more days off this year to recover from some crazy epic rides, I've only ridden 90 times this year which takes that average up to 95 miles and 11,114 feet of climbing per ride.
The topocreator map shows my long rides (81 miles or longer) for Alabama. Missing are the Rouge Roubaix race in Louisiana and Mississippi as well as back-to-back epic days in San Francisco back in January when we were out there for the RAAM crewing seminar.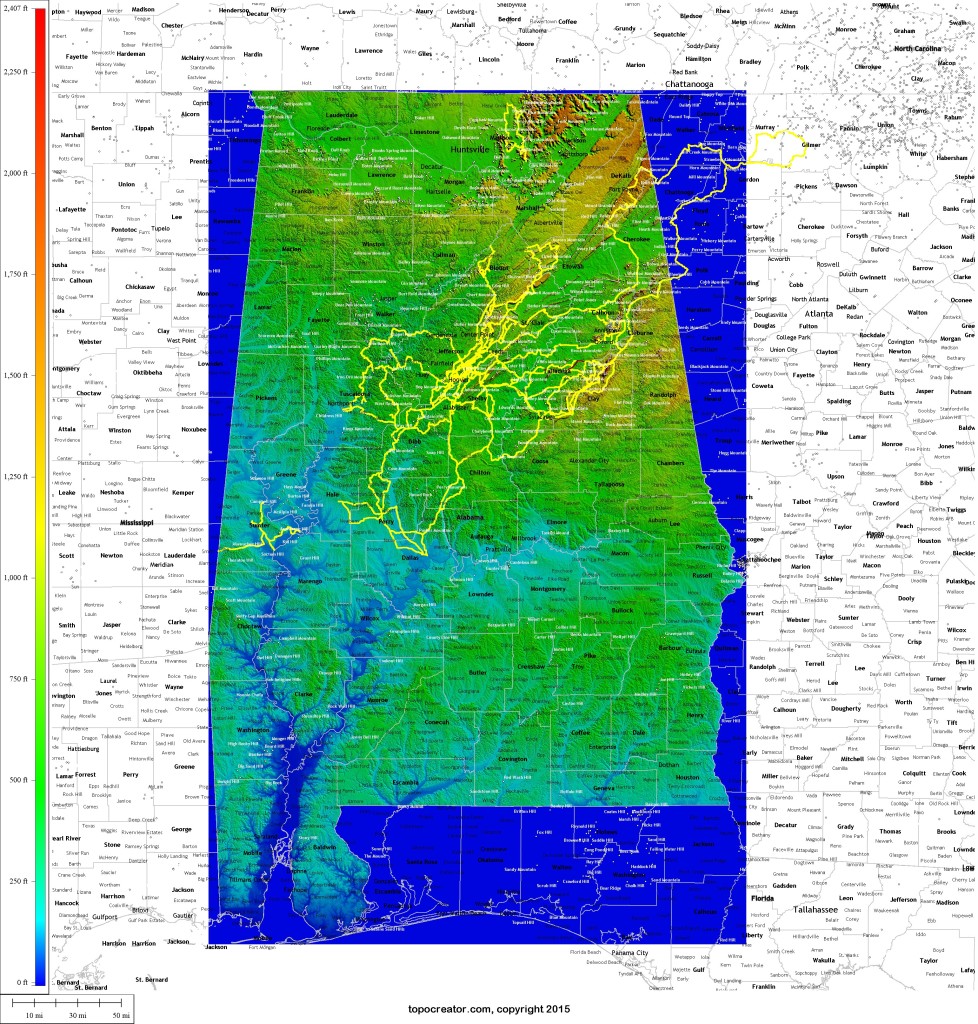 Map of my long (81+ mile) rides so far this year (click to enlarge)